Let me tell you, I am one frugal gal. While I do agree in investing in good quality staples (little black dress, classic pumps, sturdy pea-coat), it seems silly to splurge on a whole new wardrobe every season. So when I find a great deal, I'm happy as a clam (how happy are clams, anyway?). And of course, I want to share them with all of you!
Here's the deal: The Kmarts in my town all closed up (or so I thought!) and they seemed to be gone forever, a long lost childhood candy land. A good friend of mine needed some materials for our pub crawl costumes(!) and, oddly, no store in town had what we were looking for. What a surprise when she ended up on my doorstep, supply list completed, and said she got everything at Kmart! Turns out, there is
one
left in town, it just happens to be in a pretty sketchy part of town.
Here are some ankle boots perfect for fall that I can't wait to go try on!
These
little ankle booties are going to look great with some tights and a flirty dress. Plus, they look
soooo
much like the Steve Madden ones I spotted the other day!
$16.99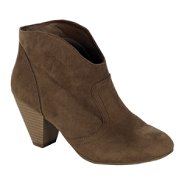 Pinch me now! I love the rocker vibe
these ankle boots
have, but if you look closely, the feminine detail gives a vintage touch. At
$19.99
, they've got the perfectly worn in look with the brand new glory!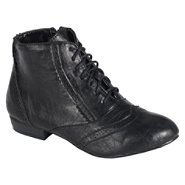 To go out with a bang, check out the stunning
Sparkle Lace up Botties
! Treat these right and they'll reward you with plenty of compliments! With good reason; how perfect would these be with a pair of skinnies and a that perfect top?!
$22.49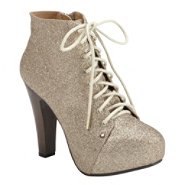 Aren't you so excited for boot weather? Have you purchased anything fun at Kmart recently? I'm dying to know!